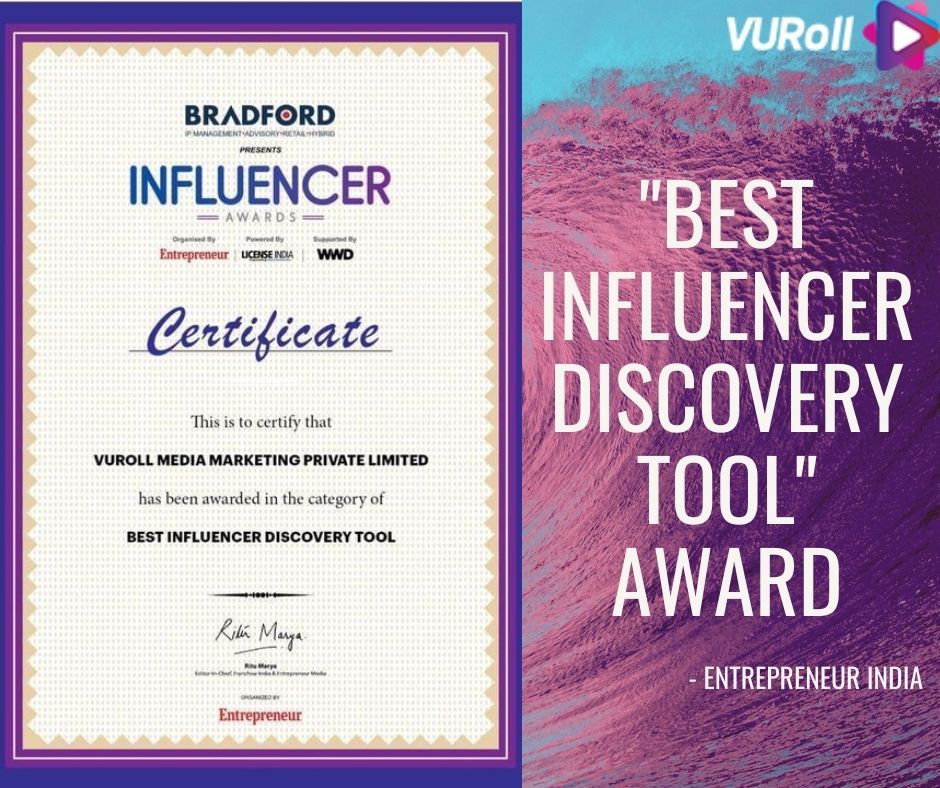 "There are always new, grander challenges to confront, and a true winner will embrace each one." —Mia Hamm
As an entrepreneur, you know the importance of recognition.  Award winning is not just an event; it's a story showcasing the hard work, teamwork and determination of the organization. At VURoll, we are creating a value for our brand, our team, all our influencers and advertisers, and we are proud of that! And it fills us with immense gratitude, when this value is recognized and appreciated by others as well!
Which is why, we are thrilled to announce that VURoll been recognized as "Best Influencer Discovery Tool" by Entrepreneur India.
After carefully analyzing our case studies, our credentials and our value creation towards getting both advertisers and influencers on a common platform, this award was presented to us.
The panel agreed that VURoll is the changing the shape and future of Influencer marketing. A Plethora of advertisers and influencers engage with VURoll to create brand awareness, audience engagement and increasing the ROI.
With great pride, we can say that our success defies the "Traditional" rules of carrying out influencer marketing campaigns. We create a transparency between our influencers and advertisers, and allow them to collaborate with great ease.
We strongly believe, that it is because of our advertiser's belief and support, that VURoll has grown so efficiently and the received the "Best Influencer Discovery Tool" award.
This award is definitely a great moment of pride and celebration for the VURoll team. Our determination, those grinding years and hard work have paid off. Needless to say, this award has pumped a whole lot of motivation in us, which will help VURoll to go miles and create a more precise value for our advertisers, influencers and our team.
If you are not already a VURoll family, register your social handles on www.vuroll.com for brand collaborations.